Our Market Segmentation
Power & Water Utilities
Our Market Segmentation
Oil & Gas Technology
Our Market Segmentation
Chemicals & Petrochemicals Industries
Our Market Segmentation
Iron & Steel Manufacturing
Our Market Segmentation
Aluminum Manufacturing
Our Market Segmentation
Cement Manufacturing
Our Market Segmentation
Light Industrial Companies
Our Market Segmentation
Transportation Services
Our Market Segmentation
Engineering Collages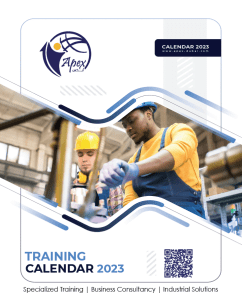 In-House Conduction of these Training Courses are also available
upon request. For more details about the courses email us
"Grateful to Dr. Mohammed and his team at APEX for the value added solutions and services. they offer. The courses that we have organized in the past 8 years or so for my colleagues and myself are done to suit our necessities and satisfy our training needs and human capital development. Knowledge gained and skills acquired through such programs"
ENG. Conrad Nyamiah
MANAGER / Civil Aviation Authority, GHANA
"It has been my pleasure to collaborate with APEX for many years. I have seen them grow from a start-up through to their current status as a significant and credible Training, Business Consultancy and Industrial Solutions-provider in the Middle East and Afro-Asia Countries contributing to strong, competitive workforces amongst their clients"
John Blacklaws
DIRECTOR / TML ONE, South Africa
"I found APEX trainer are excellent and could answer all questions asked and delivered the course in an interesting format and The things I like most about the program was the very thorough and clear format along with role play through video critique, I enjoyed the practical elements the best."
Tayseer Abotwimah
Supervisor / MARAFIQ , Saudi Arabia
"The class was excellent. The trainees were totally engaged and the materials offered substantiated their learning. I highly recommend this class to anyone in a leadership or a customer contact position, Finally a language everyone can understand and a simple process to drive planned results."
ENG. Ismail Alharrasi
Co-founder / H2 Oman Company, Oman
I have been working with Apex for many years, indeed we started our partnership in 2008. We have delivered a range of exciting training programs and workshops across the Middle East region together, adding value to employees and management. Apex is a very professional yet also very friendly company to do business with. I highly recommend them to anyone looking for a firm who can make a direct impact on bottom line profitability
Thomas G. King
General Manager / K2 Strategies, UK
Apex is a good organization. I really appreciate the organization with the way they train their clients. My visit to Dubai to attend one of their trainings held at Two Season Hotel, Internet City, Dubai in October, 2019 was encouraging, educative and remarkable. I wish to have opportunity of training again with them if I am privilege to do so. May God Almighty bless Apex. Thank you.
Ayodele Aluko
Manager / NERC, NIGERIA
I just wanted to share this quick note about my great time and business with Apex Dubai. They set a great example of what the training centers should be. They promote very high standards of the relation between clients, training center and instructors. I am so glad to work with Apex Dubai and looking forward to do more business with Apex. Finally, I really feel training for Apex is not just business, it is a message. Thank you Apex Dubai
Eng. Mohamed Gamil
Trainer & Consultant, Egypt
"The APEX Workshop could not have come at a better time in my life. The starting of a new career where influencing others could literally be the difference of success or failure. This workshop gives me the knowledge and helped in the development of using the principles that can bring greater success."
Ahmed Megahed
HSE Consultant, Egypt
I have collaborated with APEX Dubai since 2006 and witnessed their growth and expertise delivering customized technical change projects, F2F and online technical and behavioral training and coaching solutions across four continents. Greatest honor is hearing clients say APEX Dubai has taken their organization to new levels of performance.
NIALL FOSTER
Managing Partner, UK
APEX Training Programs and Materials are the best we have seen, the biggest benefit to our organization has been Technical Training for our Staff. The Trainers were excellent, they really geared the courses to exactly what they needed, so it wasn't a waste of their time.
Mustafa Makki
Training Superintendent / Altuwairqi, Saudi Arabia
Confirm our long term and professional business relationship with APEX and mutual professional cooperation in the field of cables and cable accessories training and consultancy expertise to serve power utilities and industrial customers to run reliable networks and optimize manufacturing and operation processes to Achieve LEAN systems.
Eng. Ghassan Mutlaq
General Manager/ GS3 Consultants, UAE
Over my 28 years of experience at training field, this training was very inspirational, energising, bringing lots of ideas, with both substantial and in-depth knowledge together.
Dr. Mohamed Abdelgawad
Training Manager/ Octoberpharma, Egypt
COPYRIGHT © 2023. APEX. ALL RIGHTS RESERVED
PRIVACY AND COOKIE POLICY | TERMS OF USE